ngKore Operator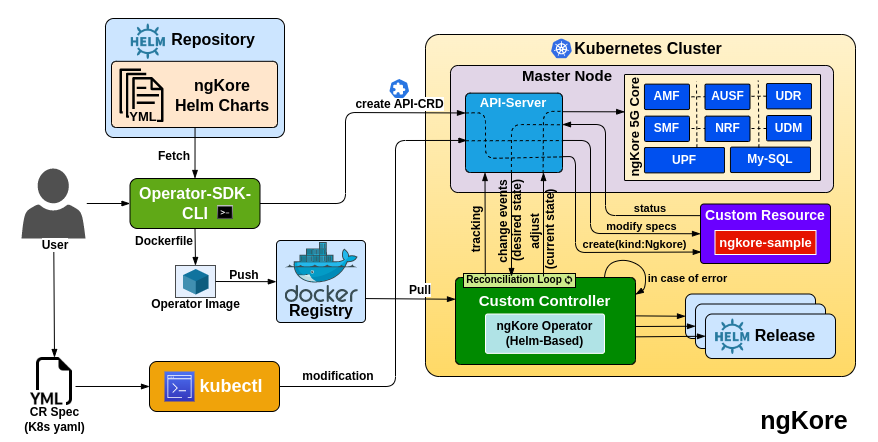 Creating the API and Controller - We first create a new CRD(Custom Resource Definition) API and a new Controller. This is done using the Operator SDK. We provide a Helm chart path that the Operator will manage. This Helm chart, essentially, is the blueprint for deploying the application we want to manage.

Fetching the Helm Chart - The Operator SDK fetches this Helm chart from the repository during the API creation. The Helm chart is then stored locally in the Operator project.

Building the Docker Image - Once the API and Controller are set up, we build the ngKore Operator Docker image and then pushed to the Dockerhub registry so it can be accessed and pulled into a Kubernetes cluster.

Applying the Operator's Deployment Manifest - The Operator is now ready to be deployed to a Kubernetes cluster. We do this by applying the Operator's deployment manifest to the cluster using kubectl. The Operator is now running in the cluster.

Creating Instances of the Custom Resource - We can now start interacting with the Operator by creating instances of the ngkore custom resource. These instances are defined in YAML and are applied to the cluster using kubectl. This YAML defines the desired state of our application.

Reconciliation Loop - The Operator's controller constantly watches the ngkore custom resource for changes. If it detects a change, it performs the necessary actions to make the cluster reflect those changes. This is called the reconciliation loop.

Modifying the Custom Resource - The 'spec' field in the CR corresponds to the values.yaml file in the Helm chart. When a CR is created or modified, the Operator deploys or updates the Helm chart using the configuration values from the CR.

Helm Releases - Each time a CR is modified, a new release of the Helm chart is created with the updated configuration values. This release is a running instance of the chart and is stored in the cluster. This does not change the original Helm chart but instead creates a new instance (release) of the Helm chart with the updated configuration.